Hello there, new player – or current player looking for a little refresher, or player who is thinking about joining the fun! Maybe you just got full access to the game through the recent release of Origin Access Premier? Whichever group you fall into (and everyone who might not fit into any of those), welcome to the galaxy of Star Wars™ Battlefront™ II.

If you're not quite sure where to begin: don't fret! This is exactly why we're here today – to give you a gentle Force push in the right direction. Which modes should you try? What's the best way to get familiar with the different gameplay mechanics? What is your Collection, and how do you level it up? What are the plans for future updates?

We'll walk it all through below, to make sure you're not missing out on any of the fun as you're starting out with Star Wars Battlefront II.

Experience the Campaign of Iden Versio and Polish Your Skills in Arcade

If you're brand new to the game, before diving head-first into online battles, you might want to familiarize yourself with the game at your own pace. There's no better way to do that than by playing Star Wars Battlefront II's engaging, narrative-driven campaign.

You're playing as Iden Versio, leader of the Imperial Inferno Squad, following the events after the destruction of the Death Star. Equally skilled as a soldier and starfighter pilot, Iden Versio's story will take you on a variety of missions to exotic planets and through the depths of space.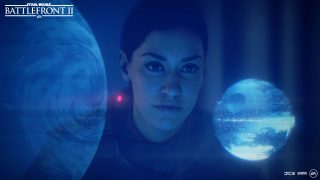 To further improve upon your skills offline against AI enemies, we recommend bringing your blaster and lightsaber to the Arcade mode, where you'll get practice time with both troopers and heroes. Or, take to the skies in Starfighter Custom Arcade, on which we've prepared a handy guide for you.

Multiplayer Modes to Start Out With

While there's plenty for the offline player to dig into, there's an even wider selection of online multiplayer modes in Star Wars Battlefront II. For starters, try out any of the smaller, more focused modes — they're a helpful way to learn the ropes around specific gameplay mechanics.

In Blast, two teams compete to get to 100 eliminations first in a round of fast-paced, close quarters combat. That's it – no other objectives to worry about, only all-out action. It's a great way to get familiar with the different trooper classes – Officer, Specialist, Assault, and Heavy – without the involvement of any hero characters or vehicles.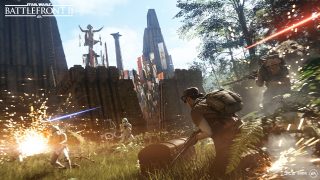 It's not lacking a twist, though. By playing well, you'll earn Battle Points to call in mighty enforcers such as Death Troopers, Wookiees, or Super Battle Droids. Use them to your advantage!

After playing Blast, Hero Showdown will quench your thirst for stepping into the shoes of some of Star Wars' most cherished heroes and feared villains. This two-on-two, heroes-and-villains-only mode delivers dramatic showdowns where a tactical mind is rewarded. Get more know-how on the mode with our five tips to Hero Showdown article.

For all dogfighting fans, Hero Starfighters is a similarly focused experience on battles between hero ships. Read up on the details of this high-flying and thrilling mode before you take to the skies.

Galactic Assault – Larger-Than-Life Star Wars Battles

After familiarizing yourself with the game through the modes above, you'll be ready to enter the battlefront in Galactic Assault. This is where all different gameplay mechanics come together in one large-scale, objective-based, and multi-staged mode.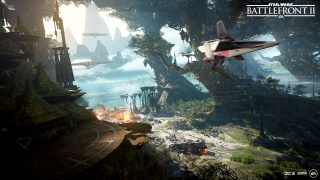 Here, 40 players participate in conflicts across iconic Star Wars locations, spanning three different eras. You'll join as the trooper class of your choice, call in enforcers, pilot vehicles on land and in the sky, and ultimately assume the role of a hero – all on the same playing field.

This is where the full-blown, Star Wars Battlefront II multiplayer experience happens.

Your Collection – The One Place for Your Units

Now, you've played with everything from a Rebel assault soldier to Darth Maul's Scimitar starship. And the more you play with each unit, the better they become.

Your entire collection of units is gathered under the Collection tab in the Main Menu. This is where you assign Skill Points to unlock abilities through Star Cards. This will make your troopers, enforcers, heroes, vehicles, and starfighters even more potent in combat.

This is also where you can unlock cosmetic Appearances for troopers and heroes with Credits (the currency earned by playing the game) or Crystals (which you can purchase using real-world currency). Here, you can choose to get the Appearances inspired by the Solo: A Star Wars Story™ film, among many more, including a variety of human and alien Appearances for troopers.

Stay Up to Date – There's More Coming

But this is only a snippet of what you can experience with Star Wars Battlefront II. We didn't even mention the suspenseful Ewok Hunt, where Stormtroopers become the hunted under the evening skies on the forest moon of Endor, or other modes such as Heroes vs. Villains, Extraction, Strike, and Starfighter Assault.

And there's more coming! Our Roadmap outlines what the future holds for Star Wars Battlefront II, including Geonosis, a new large-scale mode, and heroes such as General Grievous, Obi-Wan Kenobi, Count Dooku, and Anakin Skywalker. It is to be updated regularly, so make sure to watch this space to learn more.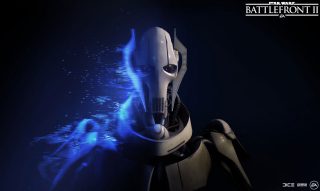 –Daniel Steinholtz (Follow Daniel on Twitter @dsteinholtz)

Keep your eyes on EA Star Wars™ on Twitter, Facebook, and Instagram, and make sure to share your feedback and join the discussion on the official forums.

Sign up today to receive the latest Star Wars Battlefront II news, updates, behind-the-scenes content, exclusive offers, and more (including other EA news, products, events, and promotions) by email.