Firestorm*, Battlefield V's long-awaited foray into the world of battle royale, is coming on March 25. We spoke with several developers on Firestorm about how they came together to create something both true to the Battlefield franchise but also new to the genre.
With one life to live, the stakes in Firestorm battle royale are high. No respawns, a destructive ring of fire, and the anxious feeling that the next encounter might be your last builds the tension of battle at every step. Still, the one life to live means everyone has a fair shot at being the last one standing using the bevy of weapons, reinforcements, and combat vehicles at their disposal.
Battlefield V is already an intense shooter, where a well-placed round can stop you in your tracks. Criterion Games, the team behind Firestorm was eager to ramp up the pressure even more with the new game mode.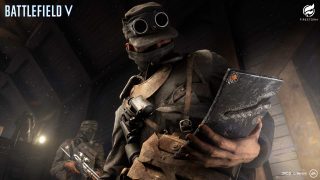 "If you are playing solo and you're on your own in these huge landscapes, we want players to feel scared or intimidated," said Steve Uphill, Studio Art Director at Criterion Games.
Firestorm's massive maps can quickly ramp up the pressure by making a player feel isolated and alone. The map is roughly 10 times the size of Hamada, one of the largest maps from the Battlefield series. Senior Game Designer John Stanley thinks the size of the world of Firestorm helps to effectively deliver on "only in Battlefield" moments.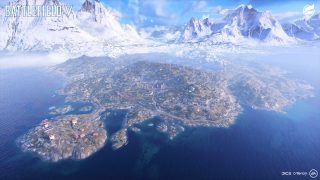 "Combat can vary widely, with moments of intense action and moments where you are in more open spaces which feel lonely with just you and your squad and the tension is dialed up to 10," Stanley said. "Then, when combat starts, like an explosion or an artillery strike, it really pierces the senses."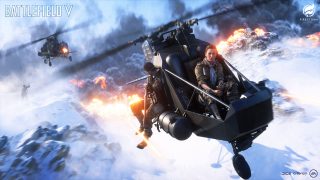 In building this tense, dangerous world of Firestorm, the Criterion team didn't take anything for granted. Even elements that could be considered standard within a battle royale game, like the ever-encroaching ring, were given special consideration here.
Similar to many battle royale games, Firestorm has a "ring" that slowly encroaches around the map, forcing teams into conflict. With Firestorm, even the ring increases the tension.
"The Ring of Fire is a huge gameplay element," Uphill said. "At first, we tried putting in some quite gamey-looking walls, but we wanted something that was a bit threatening and would double down on the tension."
"The wall looks visually impressive, sounds awesome, but it also destroys everything. If you're in a house or caught in a building it's not just, 'okay, I'm going to start taking damage.' Everything around you starts to fall apart," Stanley said.
Even with these larger-than-life moments, the Battlefield franchise always strives to bring a sense of realism to their portrayal of conflicts. Pairing that mission with the battle royale genre posed a unique obstacle to the teams.
"One of the core tenets of Battlefield is believability and authenticity and we knew that was going to be a challenge for us with royale," Uphill said. "We were conscious of not building a theme park world or something too gamey that wouldn't sit well with the main game. So we had to balance what works well from a gameplay perspective with the authenticity of Battlefield."