Our EA SPORTS titles like FIFA, Madden and NHL are constantly pushing the boundaries of what is possible in sports games. In this EA SPORTS Summer Series, we'll look at different ways those teams elevate the quality of these games. Dive into the NHL 17's customization options with Associate Producer David Pritchett.
There are a lot of ways to customize your team in NHL 17, starting with player models.
We've added many new male and female base heads to our game, a whole new suite of hairstyles, and some new eyebrow styles as well. Mix and match them however you like.
We can now independently control the size of any given part of one of our players (head, leg, arm, etc.) allowing for more authentic and realistic looking players.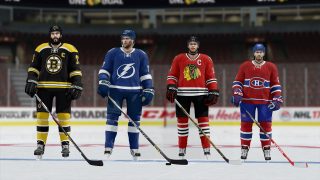 We even used it to create our awesome looking Bobble Heads that the user can set as a promotional item within the Franchise mode.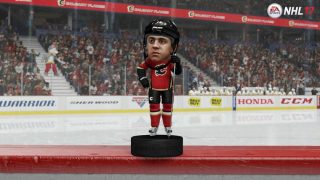 NHL®17 also offers deep customization options for teams. Select and customize team logos (primary, secondary, and alternate), and decide on team colors. Pick from vintage NHL logos, and a whole assortment of custom/fantasy logos to choose from.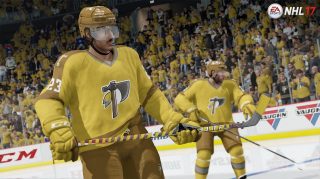 After colors and logos, players can pick their jersey base style. Players can even manually color them in.
It's pretty cool to be able to apply a different logo to the front crest position, and use two different logos for each of the shoulder logo patches. And there's tons of different fonts available for numbers.
On top of all that, there's a fully functional stadium creator available in NHL 17. You can create and customize your ideal home rink with tons of little details.
There are even options for chair colors, board trim, the roof, and a lot more! Pick your scoreboard, an entrance prop, and goal light to make your arena your own.
Over 150 songs can be assigned to specific in-game moments, like power plays, goals, and end-of-game. Do you want smoke or fire coming out of your scoreboard? The choice is up to you.
Lay out center ice however you'd like with the right colors center ice style, and make some key decisions on the details of your arena. Strobe light or solid? Small spotlight or large? Want a spotlight of shame on the goaltender when the home team scores? It's all completely up to you.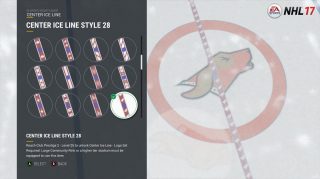 All these customization options have been built with progression in mind. You'll start with a few ways to customize their player, team, and stadium in EASHL, and rarer options will unlock as you find success.
Our artists had fun with the details, and if you look closely you can discover little Easter eggs and stories that the artists created simply by how/where they placed details.
The Edmonton Oiler's rink project was pretty challenging. The stadium was still being built as we were building the virtual environment.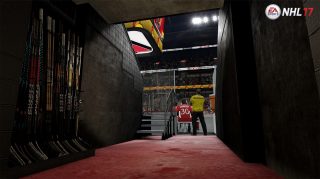 In addition to blueprint designs, our artists would keep a constant eye on webcam streams of the stadium's construction. In art reviews, our artists proudly showed off the authenticity of the carpet in the upper-bowl club seats!
That's the level of detail we wanted to get to in NHL 17. How are you going to customize your team in NHL 17? Tell us on Twitter @EA.
Visit the ready for NHL 17 website to get ready for the launch of the game on September 13. Can't wait until September 13? Sign up for EA Access and play early. You can also be the first to get news, videos and exclusive Insider content by signing up for the NHL 17 newsletter.
Love gaming and want to work with us? Visit our careers page.
MORE EA SPORTS Summer Series:
Rendering Likenesses in Madden 17
Stay in the conversation of all things EA: Read our blog, follow us on Twitter and Like us on Facebook.