The ranked ladder allows players progress through the leagues but there's no way to compete against rivals within your league and show off your accomplishments. That's changing with Update 1.6. You'll get the opportunity to compete against your rivals as you race to the top in the new Rivals Race.
In Rivals Race, small groups of players form their own Race leaderboard. All players on a leaderboard will start with a similar medal count. At the end of the Race, the top players with the highest medal counts will win unique vanity rewards.
Eligibility
Rivals Race is open to active players in Bronze League and above. Simply play a PvP ladder match during the Race matching period to become eligible for a Race. Any players who wish to participate after the matching period has ended will need to wait until the next race.
The top 100 ranked ladder players will form their own special leaderboard called the Pro Race. This leaderboard will pay out prizes to more players than the standard Race, so fight hard to make it to the top!
Starting the Race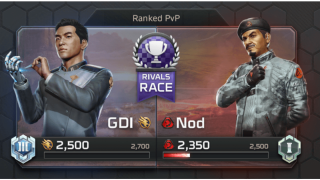 When a new Rivals Race begins, an icon will appear on the landing page and indicate which factions have an active race. The Race could be active for GDI, Nod, or both GDI and Nod. If GDI and Nod are run in parallel, each factions' medal count is independent from one another. You can decide to focus on only one faction or play both for double rewards.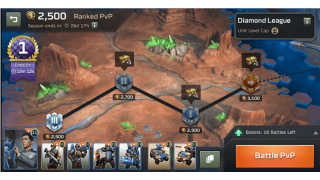 You can access the Race leaderboard from the league progression map. This leaderboard tells you everything you need to know about the Race: who you're competing against, your placement, the Race rewards, and how long the Race lasts.
Finishing the Race
When the Race is finished, all players will receive a pop up announcing that the Race has ended. After dismissing the pop up, the players at the top of the leaderboard will automatically earn their rewards. You will find these rewards in your Player Profile, under the Customization tab.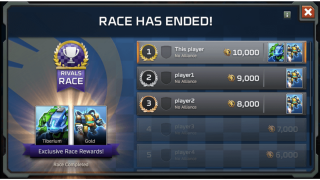 Rivals Race is a great way to reward mini accomplishments during the season. Winning battles to earn medals isn't the only objective during the season, you're also cloning units, opening convoys and completing bounties. We would love to hear your thoughts about the new Rivals Race and if you would like to race against your rivals in other ways. Please tell us on Discord, Reddit or the forums what you would like to see in Rivals Race.