With a penchant for the spooky, Most Feared returns to Madden Ultimate Team. A longtime Madden community favorite, Most Feared offers tons of content and can take your team from mediocre to scary-good.
A fun feature that makes Most Feared so popular in Madden is how we tweak player sizes to be, well, disproportionate. This year's program is no different.
Starting October 19, Most Feared comes right out of the gate with a foundation to start boosting your MUT roster OVR. Diving into Most Feared will get you a mini-squad of Little Monsters. These Little Monsters are . . . a little smaller than their real-life counterparts.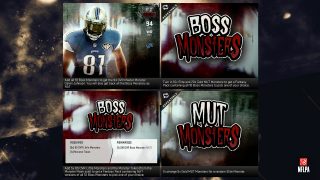 Players will choose five out of 10 Little Monsters to add to their roster to take on a series of Solo Challenges to earn "Candy." That Candy can be fed to the Little Monsters to make them grow into bigger, better versions of themselves. As you continue to feed the Little Monsters, their stature and OVR will also grow. Growing all five will unlock new Challenges with additional rewards along the way.
Along with the little guys, Boss Monsters are available for those looking to add some elite-level talent to their Ultimate Team. You can exchange your fully-upgraded Little Monsters and a Monster Token, earned through the Solo Challenges, to get a Boss Monster at 90 OVR. Boss Monsters are also available through Packs, and a full set of Bosses will get you the coveted 94 OVR Master Monster.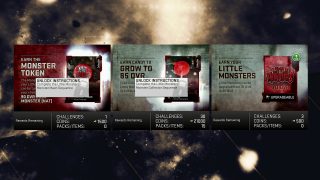 There will be plenty more available every day of the program with the Fun House Escape. Fun House will offer a series of Solo Challenges throughout Most Feared, so there's something to do daily when you log in. Complete each one for even more rewards.
Here's a look at the Boss Monsters coming your way in Most Feared.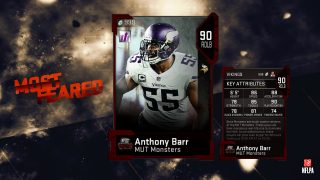 Anthony Barr, ROLB, Minnesota Vikings
Barr is a dominant linebacker and can instantly become a critical asset to your roster. His 6'5" frame, Speed, Tackle, and Play Recognition means he can cover a great amount of field to stop the offense cold.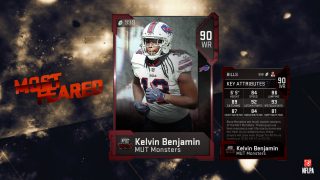 Kelvin Benjamin, WR, Buffalo Bills
This Benjamin card isn't the speedy type of player, but his size and reliable catching numbers mean he's an excellent target for coverage mismatches. If you have enough depth to put him in the slot, that type of route tree would serve Benjamin well.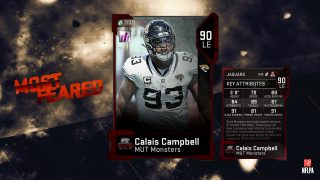 Calais Campbell, LE, Jacksonville Jaguars
An absolute monster on the line, Calais Campbell can deliver near constant pressure. Excellent ratings down the board, but his 91 in Block Shedding and Finesse Moves are the star of the show.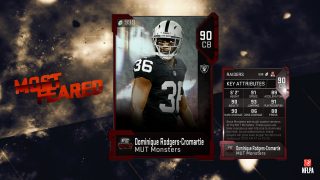 Dominique Rodgers-Cromartie, CB, Oakland Raiders
Rodgers-Cromartie is a balanced CB with shutdown potential. He can snatch INTs while in zone or shadow your opponent's top WR in man-to-man.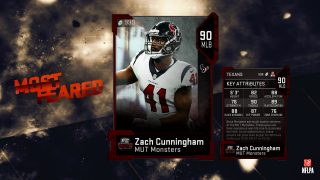 Zach Cunningham, MLB, Houston Texans
Cunningham has all the makings of a quality run stopper. His 90 Tackle will bring down most runners with solo tackles, and he can create some chaos if sent on the blitz.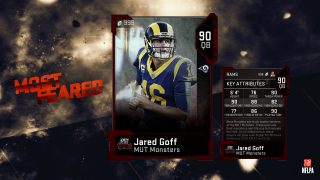 Jared Goff, QB, Los Angeles Rams
His accuracy dips a bit with the deeper routes, but Goff is a great option at QB if you need an upgrade. His mobility won't get you many first downs, but his 86 Throw on the Run can extend plays if the pocket collapses.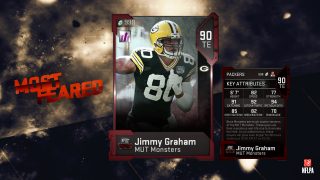 Jimmy Graham, TE, Green Bay Packers
Graham is simply huge. He won't be your fastest passing option, but his superb catching scores and route running will ensure you call his number often. He's magic in the red zone.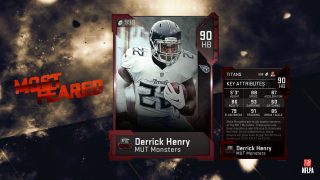 Derrick Henry, HB, Tennessee Titans
Some players just want to plow between the tackles and get the tough yards. Henry is one of those guys. No fancy stuff here. Just lean on the truck stick. Once you're beyond the line of scrimmage, there are few players that will bring down Henry.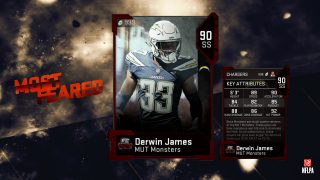 Derwin James, SS, Los Angeles Chargers
James is the best option here if you're looking for DB that can deliver the boom. If your hit stick skills are up for it, James alone will level nearly anything the offense can throw at you.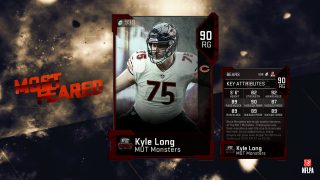 Kyle Long, RG, Chicago Bears
An all-around great option, Long is ideal for anyone looking to upgrade their protection up front. Regardless of scheme, Long has the attributes you need to create running lanes or get more time for plays to develop.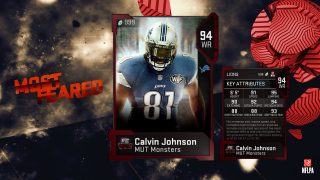 Calvin Johnson, WR, Detroit Lions
Here it is, the crown jewel of Most Feared. Calvin Johnson was a force to be reckoned with on the field, and he's the same in MUT. Johnson's combination of big size, great speed, and excellent hands allows him to expose mismatches with ease. If you have a QB that's accurate deep, sending Megatron on a post route could be all you need to score at will.
This is just the start of the program. Check back soon for what's more to come with Most Feared in Madden NFL 19.
---
Madden NFL 19 is available now. Stay in the conversation by following us on Facebook, Twitter, Instagram, YouTube, and EA Forums. Sign up for the Newsletter today to receive updates on Madden, and other EA news, products, and events, all season long.