Cosmic Star Heroine has old-school RPGs in its intergalactic DNA, and the team at Zeboyd Games wants you to know it – quotes like "good old-fashioned classic turn-based RPG," "2D visual style straight from the height of gaming's 16-bit era," and "animated cutscenes reminiscent of the Sega CD and Turbo Duo era" pepper the game's Kickstarter page. But Cosmic Star Heroine is more than just what came before: it takes the best parts of unforgettable classics and pulls them into them 21st century. And now it's available on Origin Access*!
You can play lots of fantastic games when you join Origin Access – not just the latest and greatest EA titles. Origin Access is packed with over 125 games from EA and our partners around the world, and we get more every month. That's a ton of things to play, and picking just one can be daunting task. So, each month we highlight some of our favorite titles so you know why you should be playing them right this second.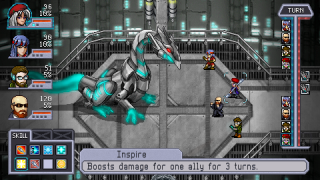 Meet Your Heroine – and Her Friends
In the far-off Zevanii Star System, secret agent Alyssa L'Salle discovers a conspiracy that could spell doom for the entire galaxy. And, once her identity is exposed, things get even more complicated. You control Alyssa as she's thrust into a system-spanning adventure, meeting a host of bizarre characters to help her on the way.
Mastering the interaction between those playable characters (11 in total) and their different abilities is critical, because you can't brute force your way through a fight. The turn-based battle system only lets you use an ability once before you have to defend to recharge it, and every time you use an ability, its damage increases. At the same time, each character can tap into a Hyper mode that triggers at regular intervals for a single turn, which you definitely don't want to waste during a refresh.
Combine all that with abilities that buff your characters or weaken your enemies, and you have a deep but intuitive system where every fight is a puzzle. It's a style familiar to fans of classic JRPGs, where turn-based battles are a staple. But the twists Cosmic Star Heroine adds give the gameplay entirely new layers, pushing you to think five steps ahead.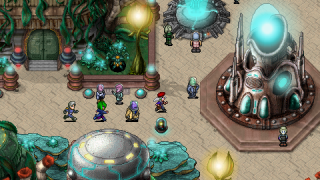 The World of Cosmic Star Heroine
You can expect the same variation from the world Cosmic Star Heroine builds: the dusk-lit, cyberpunk planet of Araenu has that classic 16-bit look, but with a level of detail that makes it appealing to both old RPG fans and new arrivals. The characters come with quirks that are as unique as they are outrageous, like Chahn with her levitating guns, the mustached android Clarke, or the hive-alien Psybe who can heal with the power of song. All have something familiar at their core, but still feel fresh and intriguing.
The result is a game that's as comforting as it is gripping, like meeting an old friend in the middle of a laser gunfight. If you're ready for a retro adventure filled with tricky battles, space ghosts, and at least one seeing-eye robot, Cosmic Star Heroine will be a blast.
– Ashley Reed (Follow Ashley on Twitter @ashsmashreed)
Play Cosmic Star Heroine and more – join Origin Access or Origin Access Premier now.
Sign up today to receive the latest Origin Access news, updates, behind-the-scenes content, exclusive offers, and more (including other EA news, products, events, and promotions) by email.
Follow us on Twitter to get the latest news on new Origin Access games, exclusive early trials and more. Then check out our update page so you never miss when a new Origin Access game.
* CONDITIONS AND RESTRICTIONS APPLY. CERTAIN TITLES MAY NOT BE INCLUDED. SEE origin.com/store/origin-access/terms FOR DETAILS.