What was the most special part for you?
It was very special to be able to be surrounded by the people you love, and just feel very happy. Our college friends are spread out all over the country, and this was sort of a reunion for everyone who came. There were people who hadn't seen each other in years. Our families and family friends were there. My dad and two brothers gave awesome speeches. Getting married was pretty cool too.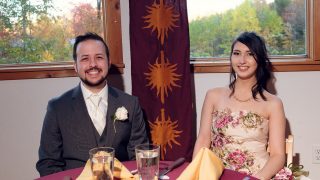 What do you guys remember most about the wedding?
The ceremony. Maybe that's because I spent a year and a half mentally preparing for it. As soon as I knew the wedding would be Dragon Age themed, I knew how I wanted the ceremony to play out. Alex and I wrote our own vows, so we put a pretty big emphasis on that.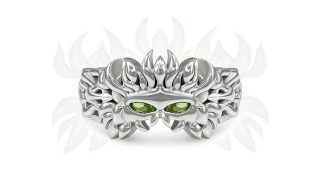 Our officiate told a story about how Alex and I accidentally bought each other Lord of the Rings themed gifts for one of our anniversaries. And then it turned out Alex and I had written very similar vows. We still laugh about that.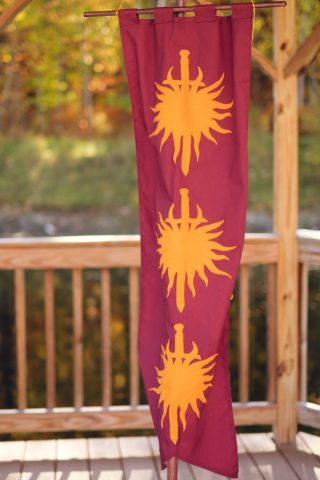 How did you incorporate Dragon Age into the ceremony?
For the ceremony itself, we had an Inquisition heraldy banner hanging in the gazebo behind the officiate. The most exciting part was the music. I had a playlist of Inquisition soundtrack songs for the seating and the processions. The song I walked out to was "Journey to Skyhold." I listened to that song often to prepare myself for the moment.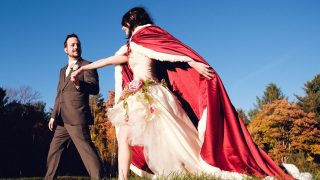 At about 8am on the wedding day, I played the song over and over again on my phone while I walked down the aisle so I could time it correctly. I wanted it to be like the amazing moment in the game. Other than that, we gave everyone golden masks to wear so we could all pretend to be Orlesian for a night.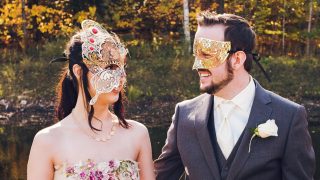 What are some of the small details from the game that fans would recognize?
The masks and heraldry banner like I mentioned. My wedding ring is the Dalish heraldy mask. I designed save the date cards and invitations with the Inquisition symbol, with envelopes sealed with wax stamped with the Inquisition symbol.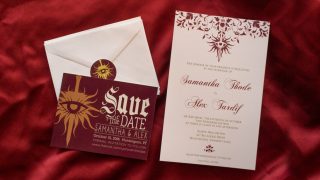 Our tablecloth was burgundy and gold, and our candy bar was filled with golden-colored candy. The cake had golden edible pearls, and a crown to top it off! My lovely Maid of Honour decided she wanted to theme her outfit like Cullen, so she wore a burgundy dress, a black fur shrug, and gold jewelry to act as armour.
PHOTO CREDIT: Jeff Weeks Photography
READ MORE: