There are many different pieces of creating a video game. From level design to writing to art, hundreds of people can work on games from all different areas of expertise.
Titanfall 2's action-packed single player campaign explores the bond between a Pilot and a Titan. As Jack Cooper, a Militia rifleman who aspires to become a Pilot, players must team up with BT-7274 – the first Militia-built Titan and one of a very few Vanguard class Titans on the Frontier. Throughout Titanfall 2's adventurous single player story, Jack and BT must work together against insurmountable odds to uphold a mission they were never meant to complete.
Learn what it's like to dub a video game character: Meet Fahri Yardim, the voice of Titan BT-7274 in the German version of Titanfall 2.
The role with Titanfall 2 your first job ever in the video game industry – what did you think?
Working on Titanfall 2 was a lot of fun and I would love to do something similar again.
When being offered the job to voice the main protagonist of Titanfall 2, what where your initial thoughts?
At first I was delighted, of course! I was happy that someone thought I was capable of pulling off such a massive, powerful character like a Titan. Albeit I also wondered why they would pick me of all people since my performance kind of relies on a lot of movement and liveliness. But that was when I realized that it was this exact seeming contradiction that the team wanted to add to BT-7274's character.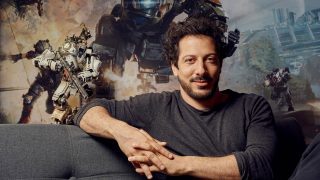 To be perfectly honest, I was a bit scared that I was not able to live up to the task. On the first day in the studio, I was bathed in sweat. But I think the result turned out to be pretty good.
What is it like to collaborate with a director in the studio?
Just as with movies, the director plays a key role in dubbing – especially when you are not very experienced in that field of work. In the end, it's all about teamwork. We took our time to find the right style and pitch of voice for BT-7274, for instance.
Also, the director keeps influencing my performance and gives valuable input. For example, he might tell me that my performance sounds too relaxed even though the action-packed scene we are dubbing is supposed to sound very exciting.
The Titan is supposed to sound like a machine, yet it's meant to connect with the player in an emotional way. How do you make that work?
It's been more like me and the director worked together to find the right way of conveying these subtle emotions. And it was a real challenge to incorporate these emotions since the lines were set and we could modify them or add something to our liking.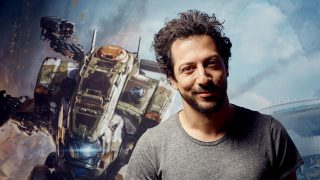 Do you play video games in your spare time?
Absolutely! Gaming is a way of recreation and it helps me relax. Most of the time, I play with friends. I love the social aspects of gaming.
What do you think what it will be like, when you finally get to play the game with German audio, with your own voice – will your enjoyment benefit from having worked on the game?
I will enjoy the game more than other people – that goes without saying! It will be a bit strange, when I will receive instructions by my own voice, but I am looking forward to it.
I guess it will be a similar feeling to the one a professional soccer player experiences when controlling himself in FIFA. Sitting in a Titan that sounds like me… I think that will be fun!
Want to work in gaming? Visit our careers page.
Stay in the conversation of all things EA: Read our blog, follow us on Twitter and like us on Facebook.