"Users of our games would have different reasons for why representation matters, and there are a lot of reasons, but at the end of the day, I think we can say unequivocally that representation matters," Scott said.
"There's a really good yearly article found by feminist frequency where they break down gender in games at E3 every year. They had a really amazing quote: "We rarely encourage boys and men to fully project themselves onto female characters. When players are encouraged to see the game universe exclusively through a humanized female character, it helps challenge the idea that men can't or shouldn't identify with women as full human beings." I feel like this is a really important opportunity for us to set the tone of empathy for our users."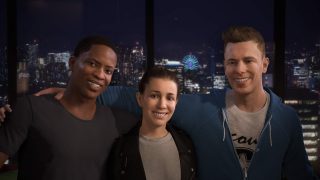 Alex Hunter, Kim Hunter, and Danny Williams
Looking at every scene, Scott noted a lack of women in offices, on training pitches, in halls of stadiums, and even during a women's match where there wasn't a single female background character. There was a sense that female characters didn't have the appropriate resources or attention dedicated to them, which left these characters feeling shallow or inauthentic.
After gathering these facts and data points, Scott developed a diversity assessment. The assessment encouraged people to think about the topic of authentic diversity when creating stories, characters, and products.
"Those statements were shared widely across EA and excited people," Katie explained. "Ultimately they helped us to understand three key things. What are we doing to make sure we portray different demographics authentically? Are we imparting any unconscious bias into our gameplay narratives? And how often are we seeking stories of underrepresented people in our game?"
Enter Kim Hunter
With all this in mind, diversity and inclusion were considered as important as budget and UX research in The Journey: Champions.
"That's kind of how we ended up with this incredible character, Kim Hunter," Scott said. "An authentic female character who is strong, true, and real."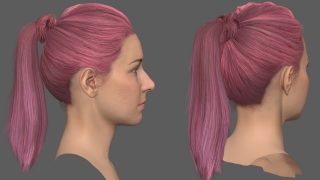 "Reach Max Brash Personality" One of many customization choices for Kim Hunter
Women were consulted on all aspects of the script and story, which sparked conversations about Kim's actual in-game mechanics. Kim is a very different character from Alex Hunter, and the game would need to acknowledge that. She operates in a different world where her age and personality are factors in how she communicates. Where Alex was either fiery or cool, Kim would be either brash or nerdy.
In addition to personality, adjustments were made on the pitch as well. The team paid added attention to authentic motion for female players, especially in cinematic scenes.
"We had previously added women's football to the game in FIFA 16 using authentic motion," Scott said. "This year, we made a big investment in authentic female animation in cinematics to match our outstanding gameplay."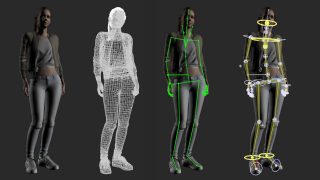 A detailed 3D model of Kim Hunter
United States women's national team co-captain Alex Morgan also provided valuable input, helping shape Kim Hunter's world in The Journey.
"Alex would say things like, 'I wouldn't say this like this,' or, 'we wouldn't do that like that,'" Katie said. "Alex detailed how the squad would come onto the pitch or listen to their coach. She made suggestions, she worked with us, she collaborated with us. These amazing insights she shared helped us turn The Journey: Champions into a truthful story, based on real-world experiences."
______________________
* The Journey: Champions is available on the PlayStation 4, Xbox One and PC platform versions only.

Diversity and inclusion enable innovation, creating opportunities for every employee to maximize contribution and reach their full potential to deliver an amazing player experience. Learn more about what this means for EA.
Stay in the conversation of all things EA: Read our blog, follow us on Twitter and Instagram, and Like us on Facebook.