Video games can bring people together like no other form of entertainment. Meet a couple who fell in love through their shared passion for Mass Effect.
How did you first meet?
Jake: I was working a charity event for SCARE for a CURE called "Fairy Tale Nightmare". They put on a haunted house experience every year to raise money for the Breast Cancer Resource Center.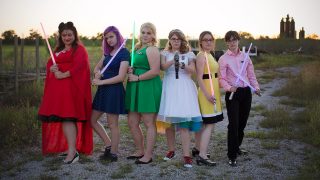 Nikki and her N7 bridesfolk
My task was to carve realistic bark patterns into wet cement that we were using to make trees. I was running late one morning and received a text message. Someone was using my tools. Sure enough, on site, I found Nikki.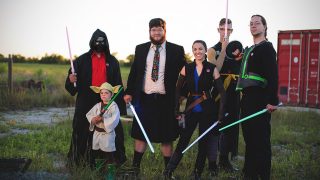 Jake and friends in Star Wars cosplay
We realized that we'd met over email. We became fast friends when we met in person and we bonded over a shared love for Star Wars, space in general, and of course, Mass Effect.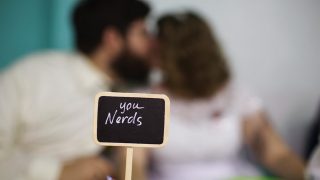 Jake and Nikki's table arrangements
Nikki: Jake put it nicely! We disliked each other until we met in person. And yes, my trees were way better!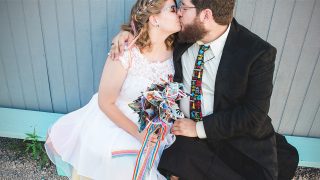 The happy couple
When did you realize that you were both huge Mass Effect fans?
Nikki: Right away! I was playing the trilogy for the first time when we met. I'm pretty sure I was already talking about it non-stop by the time we became friends. A month after we started dating, I got an N7 tattoo on my wrist and all the Mass Effect artwork I own may have gave it away. The first time I went to Jake's house, I got excited because he had the Mass Effect trilogy in his bookcase. It was meant to be!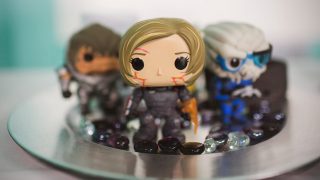 Mass Effect wedding decorations
Jake: Nikki is more of a fan than me, but Mass Effect it is one of my favorite game series. I really enjoyed the trilogy and the scale of the story. It wasn't until I met Nikki that I became a huge fan. Her love for Mass Effect (and Garrus) is pure, true, and infectious.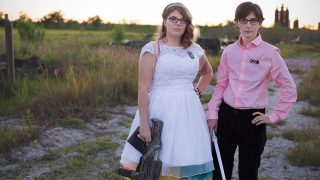 Nikki wearing her bridal N7 pin
Why are Garrus and Tali your favourite characters from the trilogy?
Nikki: I love Garrus's attitude, his voice, his reach and flexibility. The earrings I wore on our wedding day were made of pictures of Garrus and we still joke that when I said "I do" I was really talking to my favorite Vakarian.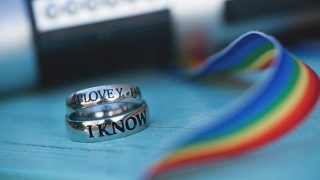 Nikki and Jake's wedding rings
Why did you decide to have a Mass Effect themed wedding?
Jake: We wanted something unique and tailored to us, so where other couples talk about colors, we created a 40+ entry list of shows and video games that we liked. Mass Effect was right up there and Nikki has an N7 tattoo on her wrist - so it was an easy decision!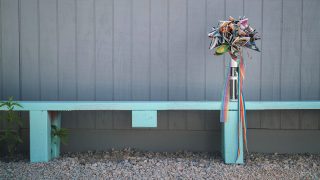 Nikki's bridal bouquet
Nikki: I think our Mass Effect theme was Jake's way of talking me into walking down the aisle. It was a lot of fun and I'm glad we went through with it!


Cosplay was an important part of your wedding day, was anyone worried they'd be handed the role of a Vorcha Sentinel or another alien race?
Jake: In hindsight we really should have done that! We both volunteer at a haunted house and could have asked the makeup crew to transform guests to Geth for the day. Costume was encouraged but wasn't a requirement and some local cosplayers we found were kind enough to show up at the wedding.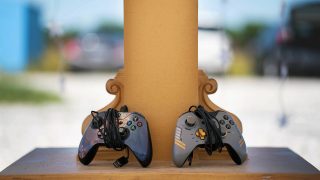 Nikki and Jake's custom Xbox One controllers
Nikki: I would have been ecstatic if we had someone show up as a Vorcha. As it was, we had quite a few folks show up in costumes of their own making and we had some awesome Mass Effect cosplayers from a local Austin cosplay group come out.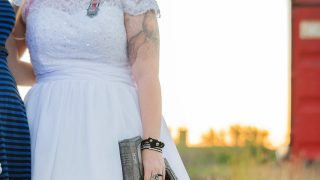 Nikki with custom made Mass Effect prop and footwear
Your N7 pins and custom Mass Effect details were amazing. How did you find them?
Jake: It was a point of pride for us to have as much of the wedding as possible be an expression of ourselves. The rest of the props, costumes, table decorations and site decorations were all hand-made by either ourselves or friends.
Nikki: The N7 pins my bridesfolks wore were found online, as were my amazing custom-made Garrus earrings and N7 Elite medal. One of my best friends is a baker at so she and one of her co-workers created our amazing Mass Effect cupcakes.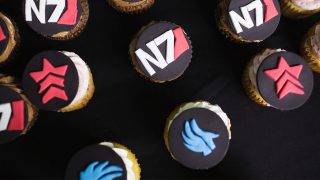 Various Mass Effect wedding cup cakes
What are your favorite parts of Mass Effect: Andromeda?
Nikki: Romance options! I've got my eye on you Vetra. I'm only half-joking.
Like Jake, I love exploring things. I'm also a nerd and for the original trilogy I had spreadsheets of all the systems and planets so I could keep them all straight in my head and know what I had explored. I'm also just stoked at meeting all these new characters. Bioware is amazing at character development and dialogue.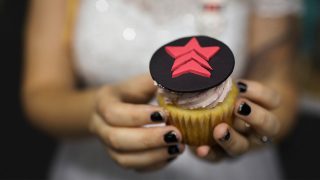 Nikki holding a Mass Effect cup cake
You're also avid Dragon Age: Inquisition fans. What do you enjoy the most in that franchise?
Nikki: Iron Bull is my favourite character and for gameplay, I really love the combat!
Jake: More than anything else, it really comes down to scope for me. Dragon Age: Inquisition is so huge, that exploring it took hours upon hours. There were so many quests, activities, and interesting points in every map that I often felt lost, in the best of ways. A few times, I found myself just repeating quests for the fun of exploring that area.
Have you met someone you love through games? Send us a note and tell us about it!
PHOTO CREDIT: Mary Lynn Photography
______________________________________
Stay in the conversation of all things EA: Read our blog, follow us on Twitter and Like us on Facebook.