The Madden 19 Challenge is upon us and the tournament features 16 of this season's best MUT Draft competitors who will face off for a share of the $190,000 prize pool, the title of Madden Challenge Champion, and potentially lock up a seat at this season's upcoming Madden Bowl.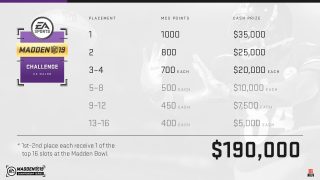 The three-day live final event kicks off March 15 and will broadcast from EA's headquarters in Redwood City, CA. This year's field is stacked with some of the most well-known competitive Madden players like Drini "Drini" Gjoka who will look to defend his title, and Shay "Young Kiv" Kivlen who was last year's Challenge runner-up and Madden Bowl winner.

Where To Watch
Catch all three days (March 15-17) of the Madden NFL 19 Challenge streaming live on the EA Madden NFL Twitch, YouTube, Facebook, and Mixer channels. As with previous Madden tournaments, there will be more than one game played at a time during the early stages of the contest. And instead of switching back-and-forth between games, or broadcasting just one game at a time, fans for the first time will be able to watch the secondary matchup streaming exclusively on Mixer. No complaints about missing out on a marquee matchup!

Fans can also view the Championship Final live on ESPNews with a re-air on ESPN2 on Mar. 21 at 9:00 p.m. PT. Scroll down for full broadcast details.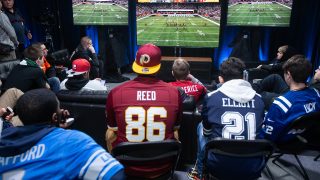 When To Watch (*All times PT*)
DAY 1: Friday, March 15
Groups A and B Group Stage, Groups A and B Wild Card

12:00 p.m. — 7:00 p.m. PT: EA Digital Channels

Second game option on

Mixer
DAY 2: Saturday, March 16

Groups C and D Group Stage, Groups C and D Wild Card
12:00 p.m. — 7:00 p.m. PT: EA Digital Channels

Second game option on Mixer
DAY 3: Sunday, March 17

Quarterfinals (4 games), Semifinals (2 games), and Championship Final
12:00 p.m. — 7:00 p.m. PT: EA Digital Channels


Second game option on Mixer
No games: 4:00 p.m. — 5:00 p.m. PT

Championship Final
5:00 p.m. — 6:00 p.m. PT: ESPNews and EA Digital Channels

The Final 16 Groupings
The Madden Challenge live finals will begin with Group Stage gameplay followed by single-elimination playoffs. The 16 finalists were placed into the following groups for the first stage of gameplay via random lottery drawing during a recent episode of the Madden Daily Drops stream.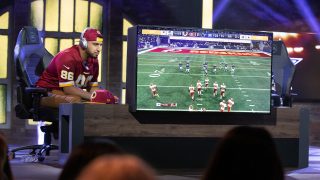 GROUP A
Pavan "Pavan" Lakhat (Group A)
Matt "BeastModeMac" Clark (Group A)
Christian "Chritobin" Lomenzo (Group A)
Josiah "Siah" Jackson (Group A)
GROUP B
Reginald "Boogz" Brown (Group B)
Jordan "Canes" Powell (Group B)
Michael "Spoto" Spoto (Group B)
Jelani "Jsthebest" Shelton (Group B)
GROUP C
Drini "Drini" Gjoka (Group C)
Hassan "Gos" Spall (Group C)
Wesley "JoeRice" Gittens (Group C)
Stephen "VYElectrify" Appleblatt (Group C)
GROUP D
Shay "Young Kiv" Kivlen (Group D)
Michael "Noble Prodigy" Scott (Group D)
Douglas "Crush" Thiel (Group D)
Kerry "KerryQ" Lee (Group D)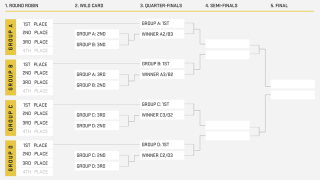 From the Group Stage, 12 competitors will advance to the Wild Card round to begin the single elimination playoff portion of the event. See the official tournament rules for a comprehensive format breakdown. For more event details, visit the Madden Challenge event page.

Behind The Casters Desk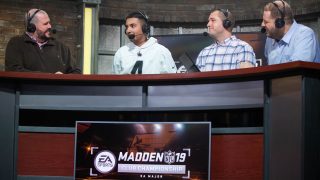 Our all-star Madden competitive caster team will reunite along with a couple of special guests. Play-by-play announcer Scott Cole will be joined by RG, Rico Williams and Nick Mizekso (of the Madden Bomber League and Shoutcaster Showdown alum) will call the tournament. Plus, guest analyst and Madden pro Eric "Problem" Wright will provide his expertise on stream throughout the three-day event.
— Matt Franciscovich (Follow Matt on Twitter @MattFranchise)

---
For more information on the Madden Championship Series and how to compete in future events, visit the Madden NFL 19 compete homepage. Keep it locked on the @MaddenLeagueOps Twitter handle for content, news updates, tournament coverage, and more.